SEE WHY wE HAVE THE BEST DEALERS AROUND...
We have an amazing group of dealers from the Midwest to the Southern parts of the country who work tirelessly everyday to help customers design and purchase their dream steel buildings with quality installation! We're taking a moment to spotlight some of the best of the best.
Rogers Backyards | Bristol & Jonesborough, TN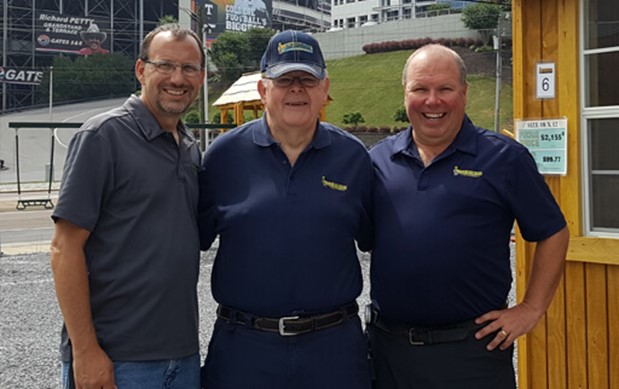 Rogers Backyards is the oldest, largest, and only multi location dealer in the Tri-Cities TN area, having been a family-owned MaxSteel Buildings Dealer for almost a decade.
Why They Love Working With MaxSteel Buildings…
"What the Rogers family and our customer base loves about MaxSteel Buildings is their continuous ambition to improve their operations for the benefit of both dealers and customers.We have watched the company evolve from a few loose-leaf price sheets and handwritten order forms; to high gloss price brochures, an interactive website, and computerized order forms. In a marketplace where carports or steel buildings basically look identical, regardless of manufacturer, MaxSteel uniquely differentiates itself from its competition with its service, quality control, and purchasing power. 
We hear of competition dealers whose customers have waited for months for their orders and dealers are no longer taking orders, frustrated with being yelled at daily.  We are so blessed that our orders deliver in 3-6 weeks, and we have never suffered from material shortages. Our installation crews are professional, customers are happy, and the word-of-mouth advertising, which is priceless (and free) sends customers to our door. We know that MaxSteel will continue to be the best in the steel building industry, and we look forward to what the future holds."
The MaxSteel network of dealers are experts at helping customers design the metal building that's best suited to their needs. Just plug in your zip code and we'll show you the dealers closest to your home. They'll provide best-in-class customer service and can walk you through the options and provide pricing for every model. MaxSteel Buildings structures are available for viewing at dealer locations.