SEE WHY wE HAVE THE BEST DEALERS AROUND...
We have an amazing group of dealers from the Midwest to the Southern parts of the country who work tirelessly everyday to help customers design and purchase their dream steel buildings with quality installation! We're taking a moment to spotlight some of the best of the best.
Graceland Of Defuniak | John Davis | Defuniak Springs, FL
John Davis is our featured dealer this quarter! John has sold MaxSteel structures for four years and has been recognized as a multi-million-dollar dealer! He is the Regional Sales Director for Graceland Portable Buildings, allowing Ken Miller to take
on the dealer position under John's leadership.
John is accomplished in other areas as well. He holds a BS in Legal Studies/Pre-Law and has completed 90% of his MBA requirements. He proudly served his country in the US Army 289th MP Company as a Presidential Escort, where he was stationed in Ft. Myer, VA, attached to the 3rd US Infantry of the Old Guard. John is involved in helping the youth in his community sponsoring several sports teams each year. In his free time, he loves the beach and the mountains and is fascinated by God's majestic wonders.
When Asked What Attracted Him To Sell For MaxSteel Buildings…
John believes MaxSteel Buildings structures sell themselves if you have the product knowledge. Word of mouth and business referrals have helped his business and says, "social media has been a game changer for selling portable buildings. We face so much competition in this industry, but competition can be a blessing at times, if you offer a better product." John hopes MaxSteel Buildings will continue to improve the "shed builder/configurator" and hopes we will someday develop a paperless system.
Open Door Companies | Larry Clark | Brent, AL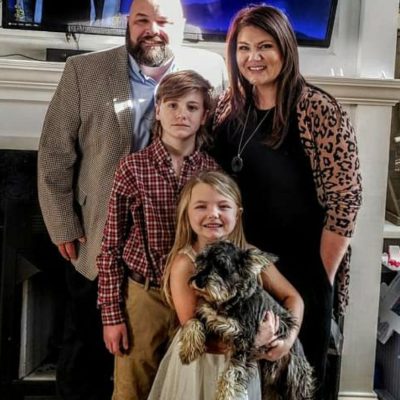 MaxSteel Buildings is happy to welcome and introduce Larry Clark, President of Open Door Companies! Larry and his family reside in Brent, AL where he has spent the last 24 years as an entrepreneur in sales, marketing, and leadership development. About nine months ago he began selling MaxSteel buildings.
Most of Larry's MaxSteel Buildings sells have been by word of mouth. His dealership recently sold the first industrial-size building for MaxSteel Buildings! The customer had received a quote from a competitor and Larry and his team were able to save him a significant amount of money. The large structure will be used to secure a motor home and other valuables!
Larry coaches a 14-year-old baseball team, an 8-year-old softball team, and a 14-year-old travel ball team! He's a member of the Bibb County Chamber of Commerce, the Parks and Recreation Board, and the Bibb County Youth Baseball and Softball Board of Directors. He enjoys spending time with his wife and children while participating in outdoor activities such as boating, camping, fishing, and hunting.
When Asked What Attracted Him To Sell For MaxSteel Buildings…
Larry said, "It was the product itself. And the reputation of the product." A professional salesman, Larry says, "you must ask for the business to get the business." He appreciates MaxSteel Buildings' great lead times and has obtained price matches for several customers. He complimented the installers for their part in the process as well. Keep up the great work, Larry!
Rogers Backyards | Bristol & Jonesborough, TN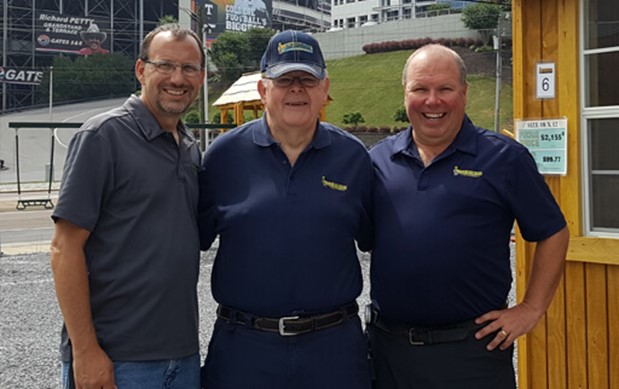 Rogers Backyards is the oldest, largest, and only multi location dealer in the Tri-Cities TN area, having been a family-owned MaxSteel Buildings Dealer for almost a decade.
Why They Love Working With MaxSteel Buildings…
"What the Rogers family and our customer base loves about MaxSteel Buildings is their continuous ambition to improve their operations for the benefit of both dealers and customers.We have watched the company evolve from a few loose-leaf price sheets and handwritten order forms; to high gloss price brochures, an interactive website, and computerized order forms. In a marketplace where carports or steel buildings basically look identical, regardless of manufacturer, MaxSteel uniquely differentiates itself from its competition with its service, quality control, and purchasing power. 
We hear of competition dealers whose customers have waited for months for their orders and dealers are no longer taking orders, frustrated with being yelled at daily.  We are so blessed that our orders deliver in 3-6 weeks, and we have never suffered from material shortages. Our installation crews are professional, customers are happy, and the word-of-mouth advertising, which is priceless (and free) sends customers to our door. We know that MaxSteel will continue to be the best in the steel building industry, and we look forward to what the future holds."
Graceland of Gadsden | Jon & Sandy Billingsley | Hokes Bluff, AL
Why They Love Working With MaxSteel Buildings…
"We live in the State of Alabama… The Home of The Crimson Tide Football. We were selling another competitor of Metal until one day we had a visit from a MaxSteel Representative.
After seeing what MaxSteel had to offer it was really easy to change brands. Man, this was a great move and we have been happy ever since. Sandy & I enjoy going to Church with all of our friends and coming home to our 6 Miniature Schnauzer's. God has blessed us with 15 grandkids. We love cooking out & watching Alabama Football with family & friends!"
Magnolia Outdoors and Company | Jordan & Audrie McCann | Desoto County, MS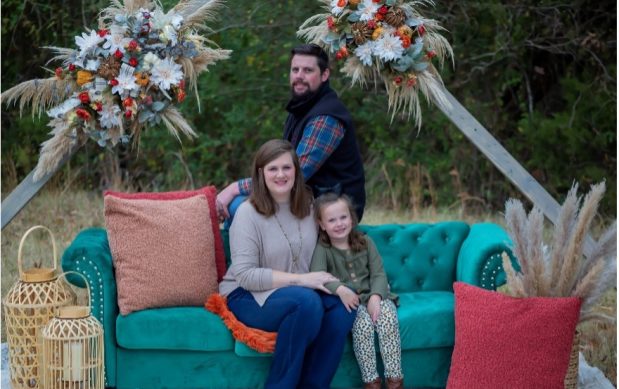 Ronnie Rhoda Storage Solutions, a MaxSteel distributor, welcomes Magnolia Outdoors and Company as a new dealer servicing the DeSoto County area in Mississippi. The owners, Jordan and Audrie McCann, are committed to providing the very best buying experience possible.
Why They Love Working With MaxSteel Buildings…
"Price is a very important component in this industry, especially with the competition in our area. MaxSteel Buildings' competitive advantage is also in the pride they have in providing great customer service, dealer support, and in the quality of their buildings. We couldn't be more proud to offer their amazing products.
When starting Magnolia Outdoors and Company, I knew it was going to be a challenge to get it off the ground while earning the trust of our potential customers. That challenge has been drastically reduced thanks to the education and training we have received from MaxSteel Buildings. They have provided us with every resource we need to excel and become successful. They are simply just a phone call away! The name MaxSteel Buildings has a wonderful reputation which helps the customer trust us as well as the brand. MaxSteel Buildings has enabled me to accomplish a huge dream of mine which is starting a business and operating it with my family. The freedom of becoming my own boss is finally within reach. Thank you MaxSteel!"
U.S. Barn Builders | Tucker & Danny Higgins | McMinnville, TN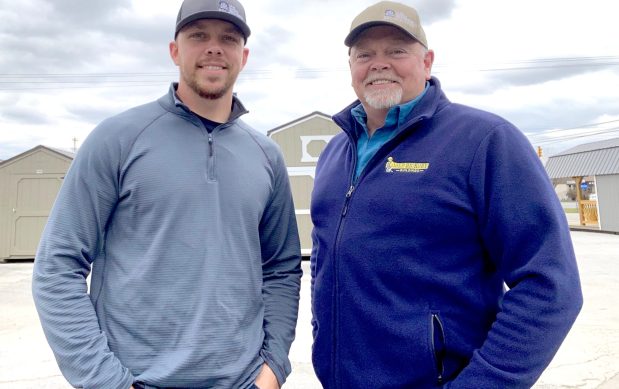 MaxSteel Buildings is happy to recognize U.S. Barn Builders from McMinnville, Tennessee as our featured dealer this quarter! This father/son duo has been in business for over 10 years and believes they offer the best product at the best price along with the best customer service. Danny Higgins and son, Tucker, base the structure of their business on two simple principles: honesty and integrity. They give 100% to the business every single day and we'd also like to acknowledge that they are the very first dealer to sell one of our new Greenhouse buildings!
Why They Love Working With MaxSteel Buildings…
Tucker says, "We love selling for a power company like MaxSteel Buildings because they are the best in the industry. We are grateful to be able to offer the best products on the market at the best prices. We are glad to be a part of this amazing team and look forward to many more years of success ahead. To God be the glory and God Bless America."
join our family of dealers
MaxSteel Buildings is constantly looking to grow our network of independent dealers to ensure that shoppers have a local and friendly face to speak with when they're ready to purchase a metal building. MaxSteel is growing quickly, so it's a good time to join our family! Interested in becoming a dealer? Complete the form below and a member of our team will reach out to you as soon as we can.
The MaxSteel network of dealers are experts at helping customers design the metal building that's best suited to their needs. Just plug in your zip code and we'll show you the dealers closest to your home. They'll provide best-in-class customer service and can walk you through the options and provide pricing for every model. MaxSteel Buildings structures are available for viewing at dealer locations.