MaxSteel carries a variety of add-on items and supplies including insulation, condensation barriers, and windows and doors to upgrade the structure of your building to your liking. Select panels can also be used to enclose the sides and ends of your building. MaxSteel also offers more tools and decorative and functional building accessories to ensure you have everything you need such as color matching screws, additional bows and trusses, wainscoting, gables, and J-trim. Contact us for additional details.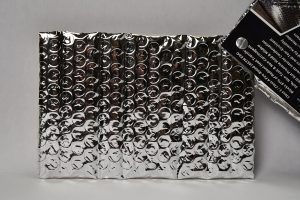 Astro Armor insulation blocks 95% of radiant heat and provides protection against condensation for metal buildings. Astro Armor insulation comes with a Class A/Class 1 fire rating and a 14.7 Downward R-Value, meaning it effectively resists heat flow from coming into your building.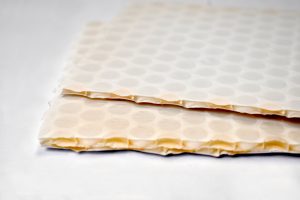 Double bubble foil insulation provides the maximum efficiency and highest R-value for bubble insulation as it blocks 94% of radiant heat and controls condensation. Double bubble insulation is a viable option that does not support growth of mold or mildew and does not provide a nutritive value for fungus, insects, or rodents.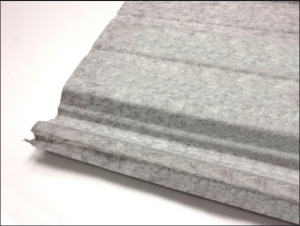 After insulation, you may want to consider a condensation barrier like Drip Stop, a felt material applied to metal roofing for trapping condensation in the specially designed pockets formed in its membrane. The pockets hold that moisture until relative humidity falls back below 100% and the moisture is released back into the air.
Drip Stop's anti-condensation felt is self-adhesive and is applied to the metal panel during the roll forming process. As a result, the panels are ready for installation immediately. The membrane is resistant to aging and provides an additional layer of protection for your metal roof. Drip Stop can be used in virtually any environment (structure) where condensation could be an issue.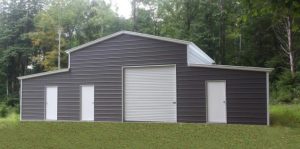 Add walk-in doors to your building for additional accessibility. All walk-in doors open outward and measure at 36″ x 80″. 
Bring light into your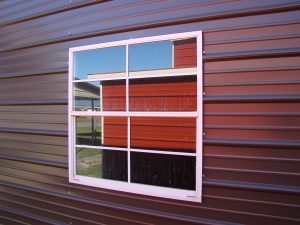 building by adding as many windows as your structure allows. Windows measure at in 3′ x 3′.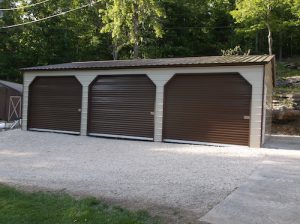 Enhance your carport or workshop by adding a garage door, either to the front or side of your building for entry instead of the traditional walk-in door. 
EasyRoller™ Garage Door Opener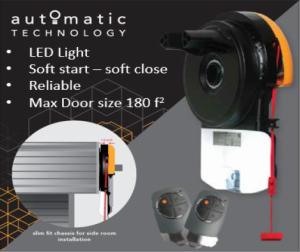 When purchasing a garage door for your building consider the Dominator EasyRoller™ Garage Door Opener add-on! This unit includes: 2 secure & reliable transmitters/key remotes, soft start and stop operation, 1 wall-mounted keypad, 1 LED courtesy light, and a 600N DC Motor.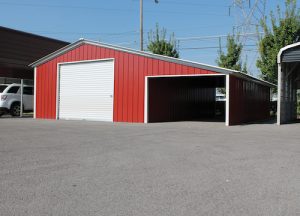 If you want to install your own custom window, walk-in door, or garage door features, we can cut your frame outs for you! Please note that all frame outs do not include installation of customer supplied materials. 
Galvanized screws are the included standard screw type used in the construction of any MaxSteel Buildings. Have your screws complement your building's paint with Color Matching Screws instead! 
Metal panels can fully or partially enclose the sides and ends of your building. When it comes to upgrading your building with any metal panels, make it a bundle with Premium 40 Year Metal Panels which include color matching screws! Our horizontal wall panels are standard unless the vertical panel option is purchased. Cut Panel Fees may apply with additional 3' metal panels. Please see the Price Guide for details. 
Eave lights are clear panels that cover the top 3′ of the side wall of your steel building, directly underneath the eave. They are a low-cost upgrade to any building and provide extra natural light inside the building as a great alternative to windows. Eave lights can only be installed on buildings with standard horizontal siding; no roof skylights or gabled-end clear panels are available at this time.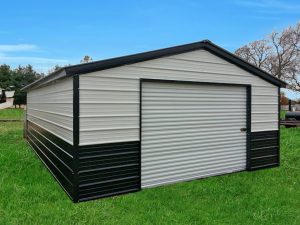 Either vertical or horizontal wainscoting is an excellent way to add a decorative flair to the exterior of your building, and MaxSteel Buildings offers both. Horizontal wainscoting comes at no extra cost, while the vertical wainscoting option depends on the linear footage of each panel. See our Price Guide for more details. 
additional bowes & trusses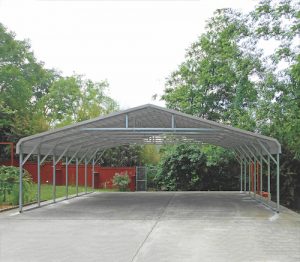 To ensure your structure is in top-notch shape to defend itself against severe wind conditions and other natural elements, add on more bows and trusses for extra sturdiness. Prices may vary by building width. Please see Price Guide for more information.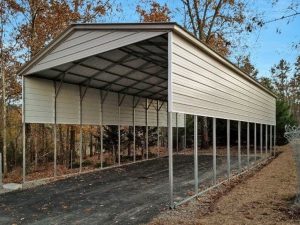 A gable is the triangular portion of the metal building that encloses the upper portion at the end of a pitched roof. The gable encloses from the roof peak to the top of the support posts. These can be added to your design plans to conceal the frame; they add support and strength to the metal structure.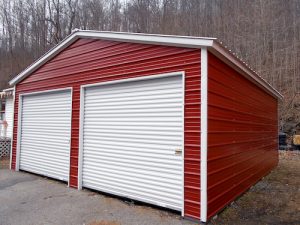 Metal J-trim gives your steel building designs a nice, finished appearance and they also serve as great cover-ups for the bottom edges of the side panels or gables. J-trim can also be used around the trimming of windows and doors to hold them in place. 
Please let us know your name and email address so that we can provide a digital copy of our most up-to-date brochure. It will include current prices and products, so you'll be able to browse the options from the comfort of your own home.
Please fill out the form with your contact information and we will e-mail a brochure to you.
The MaxSteel network of dealers are experts at helping customers design the metal building that's best suited to their needs. Just plug in your zip code and we'll show you the dealers closest to your home. They'll provide best-in-class customer service and can walk you through the options and provide pricing for every model. MaxSteel Buildings structures are available for viewing at dealer locations.