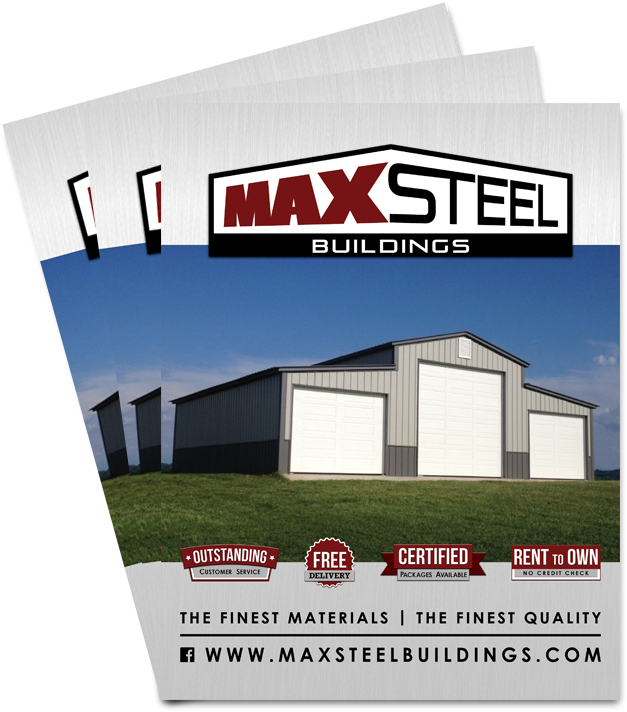 Please let us know your name and email address so that we can provide a digital copy of our most up-to-date brochure. It will include current prices and products, so you'll be able to browse the options from the comfort of your own home.

Please fill out the form below with your contact information, and we will e-mail a brochure to you.
Installation crew were all very professional and skilled. They put my 18 x 31 x 8 h building in less than two hours. Building looked great and was a good price. Would highly recommend MaxSteel Buildings!
Kenny B.
Fantastic job. Everyone was great to work with. Bobby was very patient and listened to my husband and Kaylee was so helpful, Savannah in scheduling and the folks that built the workshop were fast, professional. Great job. Thank you so much.
Terri J.
Guys showed up, went directly to work. Set the building directly where I asked and completed in about 2 hours. Building is carport cover 24x21x7. It looked really big when it was done. It's the best money spent on my house to date. Thanks so much to the crew and Savannah.
Paul S.
The crew came and went to work without any delay. I could see that they were very experienced at doing what they do. They paid attention to all details and I found that I was well pleased with what I saw. The structure is well designed and thought out. I look forward to the enjoyment of it in the future.
Douglas S.
Great experience from the beginning to the end. Professional office staff and excellent work crew. Delivered on time and the on-site crew worked tirelessly and finished the building. The did exactly what they said they would do. Very pleased with the finished product.
Michelle B.
Great carport and awesome price!! Very easy folks to deal with and fast delivery time. Install crew were very good at what they do and cleaned up ALL left-over trash. Great customer service. Will be my go-to when I order my garage. Thank you all so much.
Ricky R.