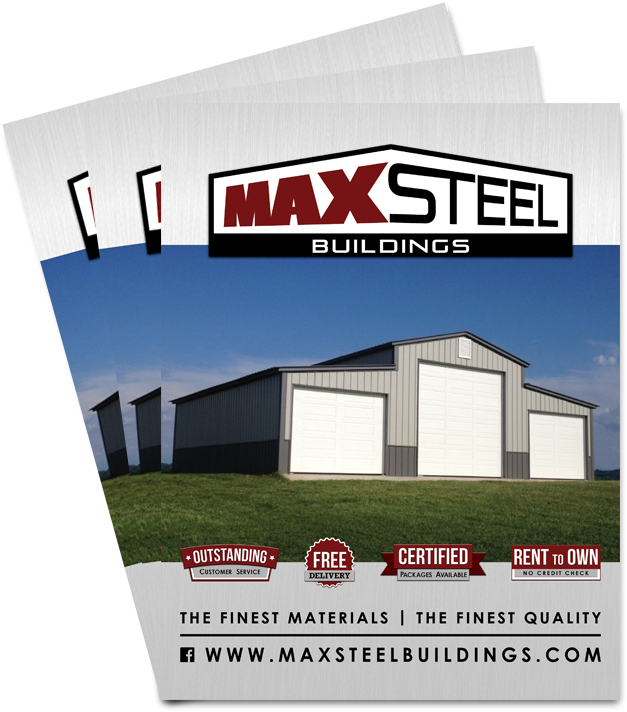 Please let us know your name and email address so that we can provide a digital copy of our most up-to-date brochure. It will include current prices and products, so you'll be able to browse the options from the comfort of your own home.

Please fill out the form below with your contact information, and we will e-mail a brochure to you.
Cover was ordered and delivered on time. Workers were all polite and knowledgeable and very quick. Left area very clean and done a outstanding job on the install. I highly recommend this company, Pricing was also great compared to other options that I was originally going to go with.
Frank H.
The MaxSteel Buildings installers were great! They arrived on time and helped with the best place on my lot to install my new Barn, where I could get my camper and truck in and out easily.
Criss P.
MaxSteel is a reputable business!! Feel easy to know that you are purchasing from a company who cares about customer service. From the initial contact throughout the finished RV cover- I was kept informed along the way and my cover is perfect!! Thanks MaxSteel!!
Scott P.
Perfect company to do business with. The customer service was awesome and the builders had my carport up in no time. Thank you!
Lorna R.
The crew came in and they were very professional, finished the job in about 3 hours. It was a 30 x 60 enclosed workshop. They had to work through a few problems with the concrete pad which they did and kept me informed of what they had to do. It ended up being an excellent job!
Kim D.
So happy with our garage and the men who installed it! They were very professional and they worked from the time they arrived until they were finished. Amazing!
Brenda P.
You can feel confident in your purchase from MaxSteel. From the very beginning, I was kept informed and everything was above board all the way to the finished RV cover. Great experience, great customer service!! Thank you MaxSteel!
William P.
It was a wonderful experience. Very fast work; my carport was completed in less than 2 hours. We would use this service again and plan to in the future. Very satisfied!
Ronald A.
The entire process went smoothly and quicker than we expected. The crew arrived early, worked well together and were meticulous about checking square and level. Our carport looks great. We would order MaxSteel Buildings again!
Carmen R.